Thanks to the very generous funding of the Viterbi Family Fund of the Jewish Community Foundation of San Diego, Leichtag Foundation, and Jewish Federation of San Diego County - Claire and David Ellman Match. To receive a monthly FREE high quality Jewish book or cd, please register your child/ren at www.pjlibrary.org. The selection and quality of books are amazing.
---
Join the JCC for 50% off!
Shalom Baby/PJ Library families get 50% off their first year of JCC membership. Come participate in all of the fabulous programs the JCC offers and gain access to our fitness center, pool, tennis courts and wonderful fitness classes. Ask about personal training and other specials for first-time members!Call or email the JCC Membership office for more information (858) 361-1115 or gilliana@lfjcc.org
---
​Take the PJ Library Survey
Parents - Your Input Matters!
PJ is conducting a survey to improve your family's experience with PJ Library. If you are a PJ Library family, PLEASE take a few minutes to fill out this survey. This survey will help inform PJ library about what interests families and will help decide which direction PJ Library will move towards. Thanks you for your help! Go to: pjlibrary.org/familysurvey
---
Top Family-Friendly Picks
Hanukkah Celebration!

Where: Lawrence Family JCC
When: Sunday, December 11, 2016
Details:PJ Library and Shalom Baby celebrate Hanukkah with a Sing-a-Long with special guest Cara Freedman and story time on the big screen!
Click Here for Flyer

Baby Book Club North County

Where: 230 Quail Gardens Drive
When: Friday, December 30, 2016, 10 am - 11 am
Details: Group Storytelling, Flannel Board Stories & Art Projects.$10/class. For more information and to sign up, please email Vivien Dean at shalombabyncounty@lfjcc.org
Click Here for Flyer

Viterbi Family
Baby Book Club

Where:

Lawrence Family JCC

When:

December 2, 16, 2016

Details:

11:30 am - 12:30 pm

Group storytelling, flannel board stories & art projects led by Jennifer Meltzer and Judy Nemzer.

Click Here for Flyer

Little Mensches

Where:Lawrence Family JCC
When: Sunday, January 8, 2017 1:00pm
Details:Collaboration with Challenged Athletes Foundation
Email:littlemensches@lfjcc.org


More events in your community:

PJ Our Way - Now available in San Diego! POW offers the gift of exceptional books with Jewish themes to kids ages 9-11 – books that they choose themselves. It's easy to sign up! www.pjourway.org


Shalom Baby Visits Seacrest Village - Brighten the Resident's Day
Sundays, dates to be announced.


---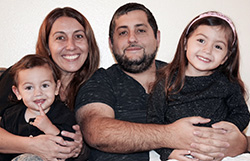 Family of the Month - The Shirizli Family
We got to know PJ Library when we took our daughter Emma for the first time to Baby Book Club at the JCC, and met Judy there, who made sure to tell us all about it. Since both of us came here from Israel more than six years ago, we naturally got excited and jumped on the opportunity to sign up because of the importance of keeping a vital link to our Israeli and Jewish culture from across the ocean. We also both felt strongly about the need for our children to love reading books at an early age. Naturally when we had our second son Daniel, we made sure to sign him up as well when the time came.

The books from PJ Library quickly became a natural part of our daily routine with the kids. Reading a book before bedtime is a well-kept tradition, and the books from PJ Library often are the star of the show, particularly around one of the Jewish main holidays like Rosh Hashanah and Passover. We all have our own favorites, but the stories of Sammy the Spider and Grover's Adventures in Israel are particularly loved by us all.

We are grateful for the books sent to us and want to thank everyone who is involved in this amazing endeavor. We are looking forward to discovering new books in the future and add them to our ever growing library and hope this tradition will continue for years to come. We also want to highly recommend PJ Library to all the parents out there who want to provide their children with solid Jewish foundations in a fun and educational way from an early age, so that they in turn will do the same with their children.

Thank you! Inbar, Zahi, Emma and Daniel Shirizli.

8 Gifts That Are Sure To Wow

We've teamed up with ModernTribe to bring you this year's Hanukkah Gift Guide.

Music videos sure to get your whole family moving and laughing during the holiday season.

Watch Now>>
>



Buying a menorah is great fun, but sometimes you want to get creative

with

the family and make your own.

Importance of Genetic Counseling

Many parents don't know that new diseases are being added to screening panels all the time, so it's vital to be tested before or during each pregnancy. Learn More>>
Hello PJ Library family!

Got questions? New to the community or looking to make connections with other families? Just wanna chat? Be in touch with me, your program professional!

Vivien Dean, Program Coordinator, PJ Library

858-362-1352 or

shalombabyncounty@lfjcc.org